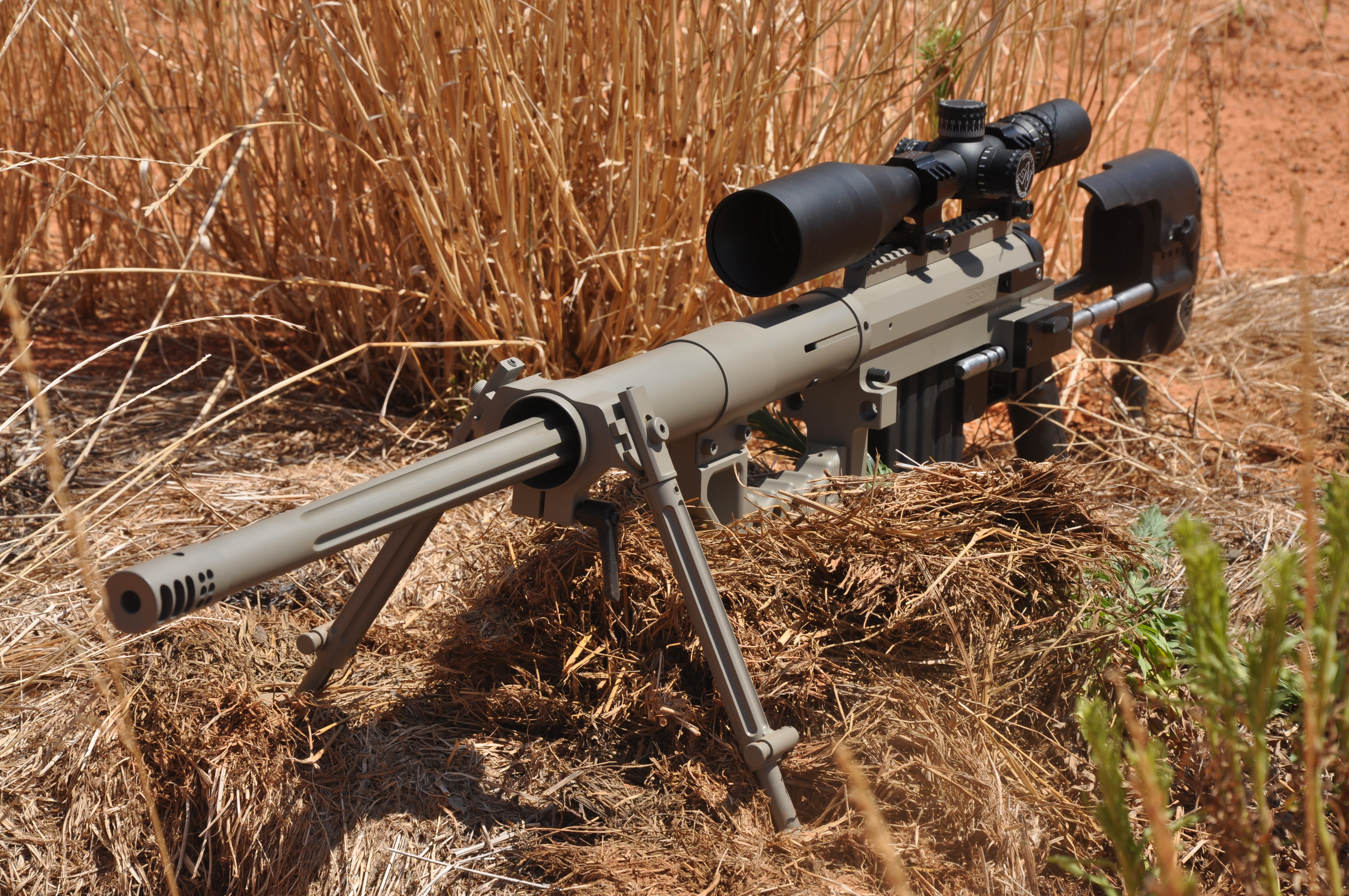 Our customers have always had a great deal of interest in the .408 CheyTac® cartridge and supporting platforms. We frequently receive questions regarding which system is preferred, how the cartridge came about and who was really involved in the creation.
Our customers have a great deal of interest in the .408 CheyTac® cartridge and supporting platforms. We frequently receive questions regarding which system is preferred, how the cartridge came about and who is really involved in the processes. We hope that this history can serve as a FAQ with a little bit of backstory and allow people to know more about our experiences and insight on the various platforms. 
The .408ct cartridge was originally developed and produced by two companies, first THEIS (Tactical High Energy Impact Solutions) which provided the modification necessary to translate what modifications became apparent and necessary from the original 505 Gibbs case. The second entity involved in the cartridge development was Lost River Ballistics Technology which is now closed and much of the intellectual property was used by Greenwich Ballistics (a CheyTac® LLC based company). Jamison International has been, up until recently, the primary producer of the 419gr projectile that is the patented "CheyTac®" cartridge. Despite this, many companies offer similar .408 cartridges that work outside the patent and provide excellent results such as the now commonplace 400gr solid projectile.
The M200 style system that is so prevalent in media, film and television was originally designed by Bill Ritchie of EDM Arms. Mr. Ritchie was approached by CheyTac® LLC to scale down his "Windrunner" rifle to accommodate and better suit the .408CT cartridge. CheyTac®, LLC began looking at options to modify the rifle and add the popular over-the-barrel bipod system and shroud after the initial field testing of the EDM Arms rifle was completed. The initial field testing was provided by a company, now defunct, known as Sniping Operations Executive (SOE).
CheyTac® and EDM Arms had a multi-million dollar lawsuit filed in the early 2000′s which resulted in the case being dropped and the decision was for both companies to continue producing their respective rifles in the .408ct chambering. EDM Arms later partnered with THOR Global Defense Group, Inc. to provide official license of the original rifle which is now the THOR XM408 and the enhanced THOR M408 model which features an upgraded barrel, enhanced bipod and carry handle system.
CheyTac® continued to produce the M200 rifle through a reverse engineering development process and had several machine shops over the course of the next few years produce the M200 under an ATF variance.
CheyTac® later approached RND Edge in regards of having a semi-automatic .408 rifle created for standard production. Initial prototyping was completed, but after some developments, RND Edge has separated from CheyTac®, and a semi-auto CheyTac®, LLC rifle was not officially brought into production.
It became apparent that with the extreme range that could be achieved with the .408 cartridge, a ballistic computing system would be quite a boon to provide quick calculation of the Data On Personal Equipment or DOPE. This system enabled the shooter to efficiently apply shots on a target at extreme ranges. The software was named the Advanced Ballistics Computer (ABC) and was produced to work on windows mobile platforms. The original ABC software is not available in the original form, but several companies now offer similar systems to provide calculation on both Windows operating systems as well as newer Android applications. Training courses offered by CheyTac® were provided on public BLM (Bureau of Land Management) property in Arco, Idaho. Targets at this range area were designed to allow safe firing positions between 100 and 2500 meters.
Knesek Guns, Inc. provided distribution and commercial sales and customer support out of their Arkansas facility, but supply became an issue as time went on and it became apparent that other options to provide a .408 system of identical or higher quality with great technical and customer support from the manufacturer was going to be needed. Larry Knesek began negotiations with Bill Ritchie and the formerly associated individuals involved with the CheyTac® project that had disassociated themselves for one reason or another. The THOR M408 rifle system offered maintains the better quality, accuracy and provides enhanced features over the CheyTac® M200 system which Knesek Guns had formerly distributed.
In summary, the entities described in the CheyTac® Asscoiates brochures from yesteryear have, for the most part, gone their separate ways or been closed. Here is a listing of the entities which were previously listed as the CheyTac® associated firms:
Bradley Development (Unknown)
Greenwich Ballistics (Current CheyTac

®,

LLC entitiy)
Lost River Ballistics Technologies (Closed)
Sniper Operations Executive (Closed)
Tactical High Energy Impact Systems and subsidiaries (Conducting Research & Development)
Advanced Barrel Systems (Closed)
Jamison International (Closed)
Knesek  Guns, Inc. (Current distributor/exporter for THOR Global Defense Group & EDM Arms)
RND Edge

 

(No longer associated, feel free to contact RND for more info)
We are pleased to offer the full line of THOR .408ct and .375ct rifles with quick turnaround and short lead times for custom builds. To provide more information on the system, the THOR M408 is a 7 shot repeating, take-down rifle system. The barrel is removable and easily replaceable by the operator. The rifle has an over the barrel bipod system built onto the barrel shroud with carry handle. The THOR M408 comes standard with a custom Krieger barrel and completely adjustable butt stock. In fact, the entire rifle is maintainable at the operator level – including complete tear down. Spare barrels can be maintained at the unit level and replacement can be made in the field, allowing for special barrel design and shorter barrels.
The take-down capabilities provides a safe rifle which supports all methods of infiltration; including military free-fall, static line, small boat, dive lockout as well as all other forms of infiltration. The THOR M408 repeats its different zeros extremely well. The system has been repeatedly disassembled and reassembled with no change in zero. This includes removal of the barrel and re-installation, removing and reinstalling the optics and removing and reinstalling the suppressor. The THOR M408 is very pleasurable to shoot due to the purpose built and very effective muzzle brake that has very little over-pressure felt by shooter or observer.
The THOR M408 is a solid anti-personnel system to distances beyond 2000 yards. The primary intent of the .408 is as an extreme range anti-personnel system. The average shooter can produce groups of 7″- 9″ at 1000 yards, 10″ at 1500 yards and 15″ at 2000 yards  consistently. Groups of 19″ at 2100 yards and 29″― at 2400 yards have also been obtained. All groups that are up to 3000 yards are less than 1 minute of angle for vertical dispersion. Our trained snipers can produce a 3cm group at 2000 meters consistently. The extreme range capability of the THOR M408 allows the shooter to standoff at a distance that is unparalleled by any other system, including the 50 SASR. As an anti-personnel system, the THOR M408 is only limited by flight time in regards to flight of the projectile to the target. The nature of the target at that point becomes the limiting factor of the systems maximum effective range.
The high remaining kinetic energy characteristics of the 419gr projectile make it a very effective anti-material rifle. The .50 BMG has a higher initial muzzle energy of 11,200 ft. lbs. vs. the .408's energy of 7,700 lbs. At 700 yards however, the remaining energy of the .408 is higher than that of the .50 caliber rifle. Ranges past 700 yards are the realistic engagement-range for anti-material rifles. The .408's 419gr projectile will defeat any material that the .50 BMG can defeat except those targets that require an explosive projectile. While the round of choice is the Raufoss for anti-material operations, there is a strong argument for use of solid projectiles for many of the material targets. Material targets such as surface to surface missiles can be easily engaged and defeated by the use of solid projectiles.
The following are a list of projectile manufacturers currently known to us:
Jamison

 

– Solid projectile
GS Custom Bullets

 

– Solid projectile
Cutting Edge Bullets

 

– Solid projectile
Hunting Shack Munitions

 

– Solid projectile
Lehigh Defense Bullets

 

– Solid projectile
Rocky Mtn Bullets

 

– Jacketed projectile
Dynamic Research Bullets – Solid projectile
Predator Bullets

 

– Solid projectile
The following are a list of known brass manufactures:
For customers curious about the ballistics and cartridge of the CheyTac® ammunition, we are providing a breakdown of the 419gr and 305gr:
.408 CHEYTAC®
Maximum case dimensions
Base Diameter 0.6367 max.
Rim Diameter 0.6400 max. -.010
Rim Thickness 0.0650 max. -.010
Extractor Groove Dia. 0.5350 max. -.015
Wall Thickness 0.0150 max. -.005
OAL 3.0370 max. -.020
419 gr .408 Projectile Tolerances
Body Dia. 0.40750 min. 0.40790 max.
Weight 419 gr. min. 421 gr. max.
Length 2.163 min. 2.179 max.
Ballistic Coefficient 419 gr. projectile
419 gr .408 CheyTac

®

= .940 Yuma Proving Grounds Doppler radar tested at 1,500 yards.
Secondary Density
419 gr. – 0.40770 dia. = 0.360
419 gr .408 CheyTac

®

Projectile: 419 grains solid copper
Cartridge overall length: 4.303 +/- .005
Average velocity: 2,886 fps.
305 gr. 408 projectile tolerances
Body Dia. 0.40750 min. 0.40790 max.
Weight 303 gr. min. 305 gr. max.
Length 1.622 min. 1.632 max.
Ballistic Coefficient 305 gr. projectile
305 gr. 408 CheyTac

®

= .611 Yuma Proving Grounds Doppler radar tested at 1,500 yards.
Secondary Density
305 gr. – 0.40770 dia. = 0.262
305 gr. .408 CheyTac

®

Projectile: 305 grains solid copper
Cartridge overall length: 4.100 +/- .005
Average velocity: 3,200 fps.
THOR Global Defense Group has continued to work with its partnered firms to improve and redevelop the .408ct rifle systems currently offered and plans to unveil an exciting new rifle system in the coming months that will complement its current line and offer additional solutions for a modular, extreme long range system.
Sensitivity Analysis of the 408 CheyTac® With 419 Heavy Bullet